HUMAN RIGHTS ADVOCACY IN PRACTICE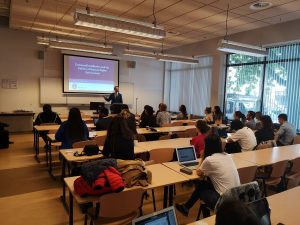 The WiGS's aim is to familiarise international and national undergraduate and graduate students (at Bachelor, Master, and PhD level) with various issues of public international law. To this end, the society will hold regular sessions on chosen topics reflecting contemporary concerns of international law and justice. Through the sessions, WiGS students will be able to develop legal skills (such as debating, writing, augmenting, researching), as well as build a network of students and guests speakers to help them in their future career. The meetings will be conducted in such a way that it will require the students to participate actively to the discussion and give them the opportunity to put theory in practice.
The sessions will consist of:
– A presentation of the chosen issue of public international law by the speaker (generally students but also lecturers and professionals);
– The analysis by the speaker (student, lecturer or professional) of a chosen piece of research relevant to the issue;
– An open debate and discussion on said issue among the students (or between the students);
– An opportunity to put theory into practice: through delivering speeches; sustaining legal argumentations; presenting opinion pieces; or drafting memorandums, contracts and other legal documents, etc.;
– A general feedback on the session, through evaluation forms to be filled by the students.
WiGS & LIPLS – Draft Event Schedule – Human Rights Advocacy in Practice
Speakers
Charlie Loudon

International Legal Adviser

Charlie represents REDRESS and its clients in cases before international courts and tribunals, including
the African human rights bodies, UN treaty bodies and UK domestic courts. He leads REDRESS's legal
work on seeking the release of Nazanin Zaghari-Ratcliffe and co-ordinates REDRESS's work on
prosecuting the perpetrators of torture through universal jurisdiction. Charlie is a UK-qualified solicitor
advocate. He practised for six years at an international law firm, where he acted in disputes against
foreign States. He previously spent time at the International Criminal Tribunal for Rwanda and the
Ghana Center for Democratic Development. Charlie studied Law at Oxford (BA) and International Law
and African Politics at the London School of Oriental and African Studies (MA). He writes regularly on
international justice and human rights and has been quoted in The Times, Sky News and The Huffington
Post.

Prof. Dr. Dam-de Jong

Associate Professor

Daniëlla Dam-de Jong is Assistant Professor at the department of public international law and the Grotius Centre for International Legal Studies at Leiden University. She has defended her PhD. at the same university on a dissertation entitled International Law and Governance of Natural Resources in Conflict and Post-Conflict Situations for which she received a research prize by the Foundation Praemium Erasmianum and an honorary mention by the Max van der Stoel Human Rights Award. The dissertation has been published as a monograph by Cambridge University (2015).
She is currently conducting a research project on the contribution of the UN Security Council to enforcing intra-state peace agreements. More in general, she is interested in questions relating to the fields of sustainable development and peace & security, with a focus on the work of the UN Security Council. She is also a member of the ILA study group on UN Sanctions and International Law.
Daniëlla has studied law at the Free University Amsterdam, specialising in public international and European law. In addition, she has studied French language and culture at the University of Lausanne and the Free University Amsterdam. Previously, she has worked as an intern at the Dutch Advisory Council on International Affairs; as a policy officer at Campus The Hague; and as a research assistant and PhD. Candidate at the department of public international law of Leiden University.